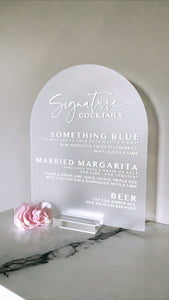 Custom Engraved Dome Bar Menu. Impress your guests at your event with this clean and modern bar sign that features your signature bar items. Made with engraved acrylic, this sign will be the perfect touch to your bar! Features the words "Signature Drinks" on top, with your customized menu.
S T E P S -
+ Choose your color options
+
Please list out your signature drink item(s) along with drink contents for each
+ Event date
D E T A I L S  -
Each piece is 8x10 domed acrylic. Engraved lettering. 
Follow us on Instagram @commonoak for exclusives!